Check out these great Nashville Airbnbs to rent. Before it became known as Music City, Nashville was heralded as the Athens of the South. And it's not hard to see why.
Over the last couple of decades, however, it has defined itself on a wildly popular genre of music.
Not only that but a general way of life which continues to attract visitors to the city year-in, year-out. This great Nashville airbnbs should provide you with the perfect place to stay. 
8. Hip, Cozy Cottage with a Fire Pit in Cleveland Park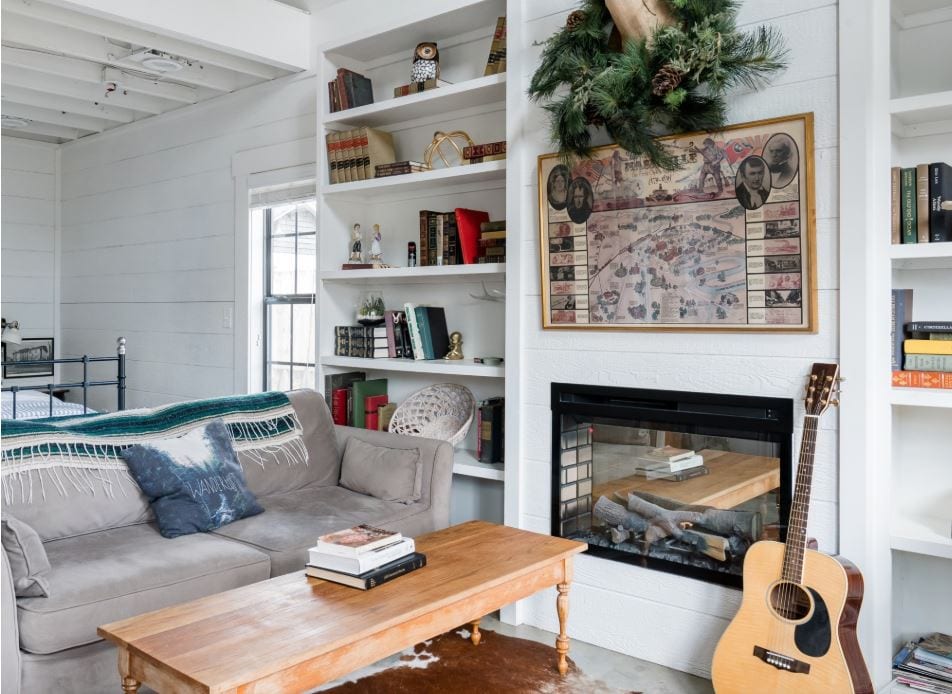 This great Nashville Airbnbs cottage is in the Historic Cleveland Park neighborhood of East Nashville adjacent to the original thoroughfare, Dickerson Rd.
The area prides itself on a laid-back attitude with nearby restaurants and cafes, and a short 10-minute drive from the bustle of Downtown.
At $116 per night, it's an opportunity not to be missed!
7. Dreamy Tiny House Cottage Ten Minutes to Downtown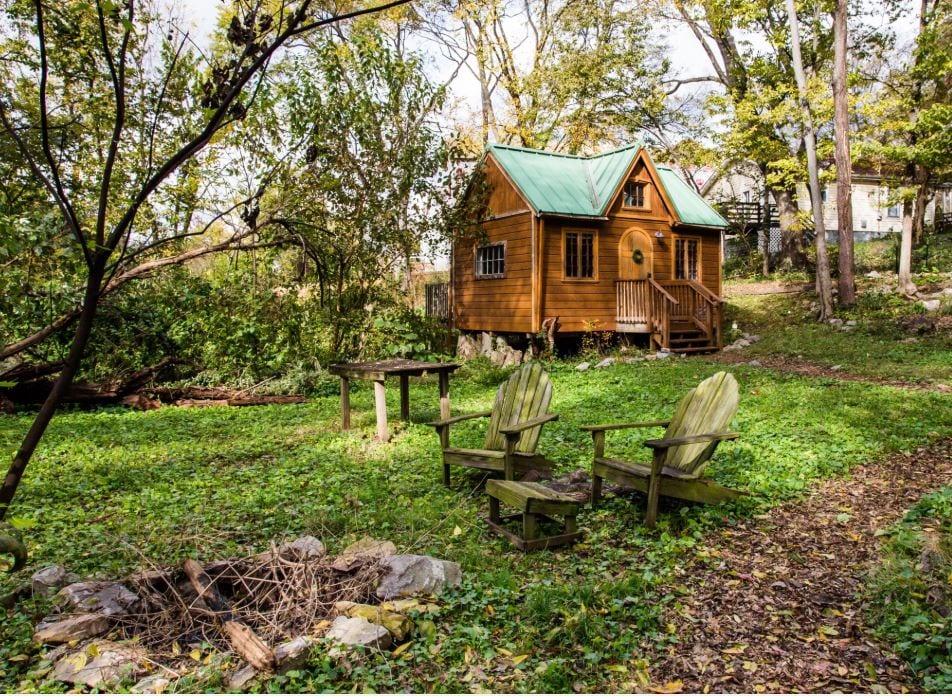 Basque in the charm of this quaint house in a wonderful setting, where thanks to its size, everything is meticulously utilised.
In this charming mixture of old and new, repurposed vintage cabinets and a claw-foot tub share the space with modern amenities and air conditioning to counter the scorching Nashville sun.
Featured in Travel+Leisure, Southern Living, House Beautiful, the Tennessean, and USA Today, staying in one of Tennessee's most wish-listed Airbnb will cost you $119 a night!
Read about some of the best neighbourhoods in Nashville
6. Family Friendly Two-Story Loft with Street Access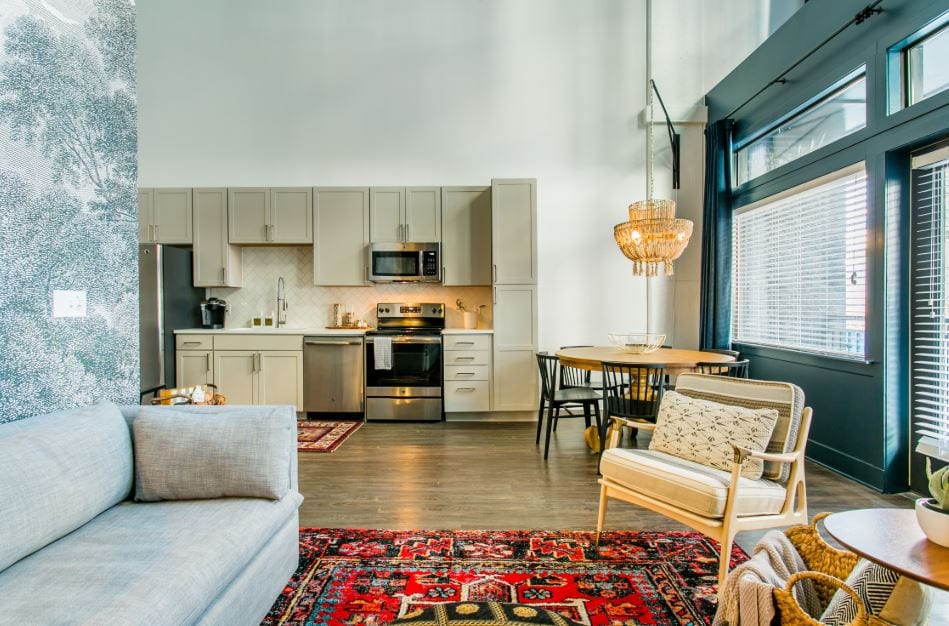 This spacious, one-of-a-kind two-story loft Airbnb is designed by Beta Angarole, one of Nashville's most contemporary designers. This great Nashville Airbnbs soaring 20' ceilings are enhanced by an entire wall of windows with its own private street entrance.
It's within walking distance to The Gulch, Downtown, and East Nashville. While there you can enjoy resort-style services and amenities, an on-site MasterHost, pool and climbing gym.
The hosts recommend checking out the events calendar for Airbnb Experiences like concerts, bar pop-ups, and cooking classes. $197 a night!
5. Downtown Nashville Pad!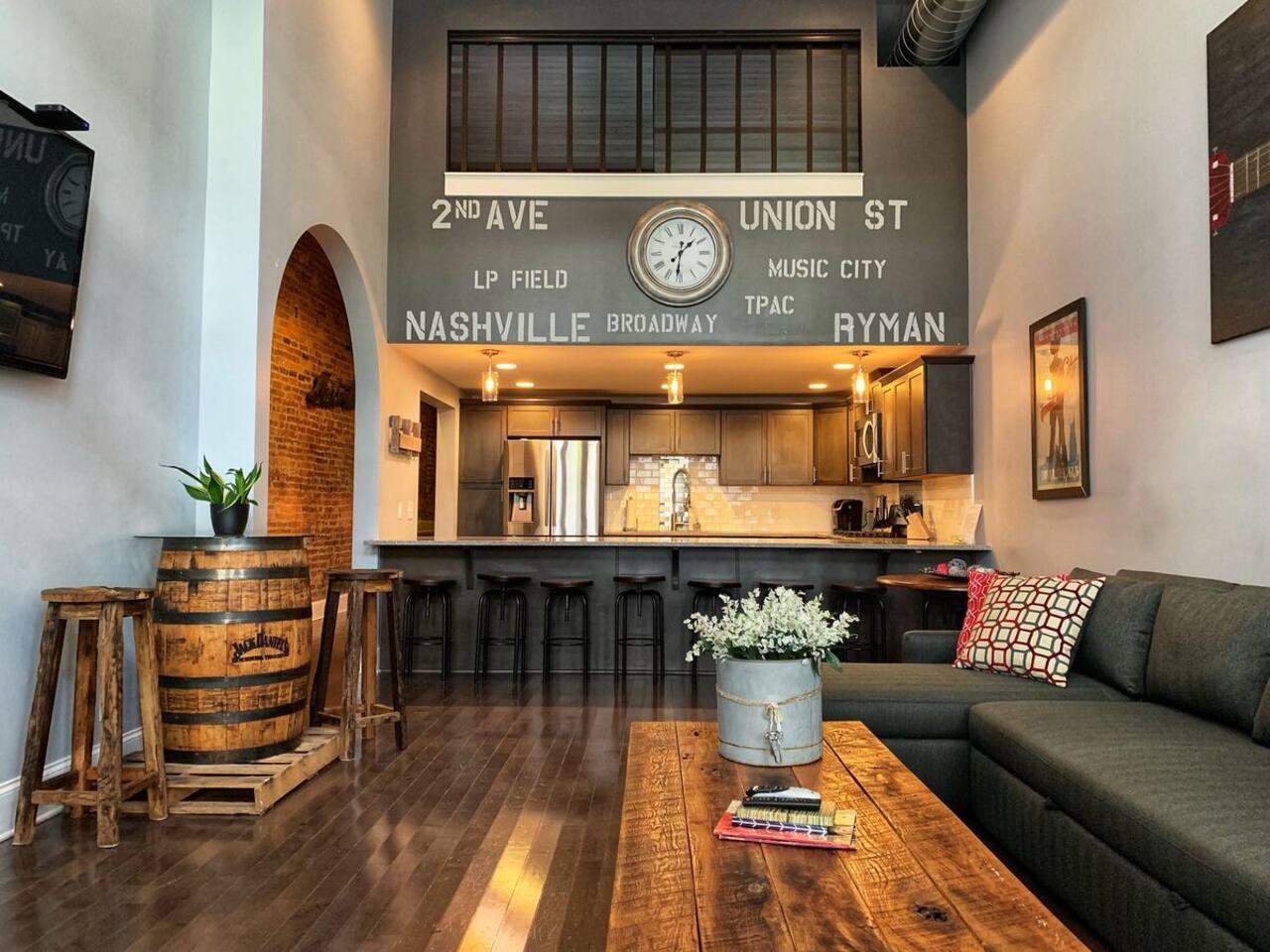 This 5-star premier location is the perfect Airbnb antidote to the average hotel/motel and is $338 per night!
With an amazing history right on its doorstep, it's a little stride to the centre of Music City.
This pad is one of the only properties available in downtown Nashville that can accommodate up to 10 people. It's the dream spot for a group of revelers looking for a great time in the heart of Nashville.
Get more Nashville homes to rent here
4. A Cabin in the Woods near Nashville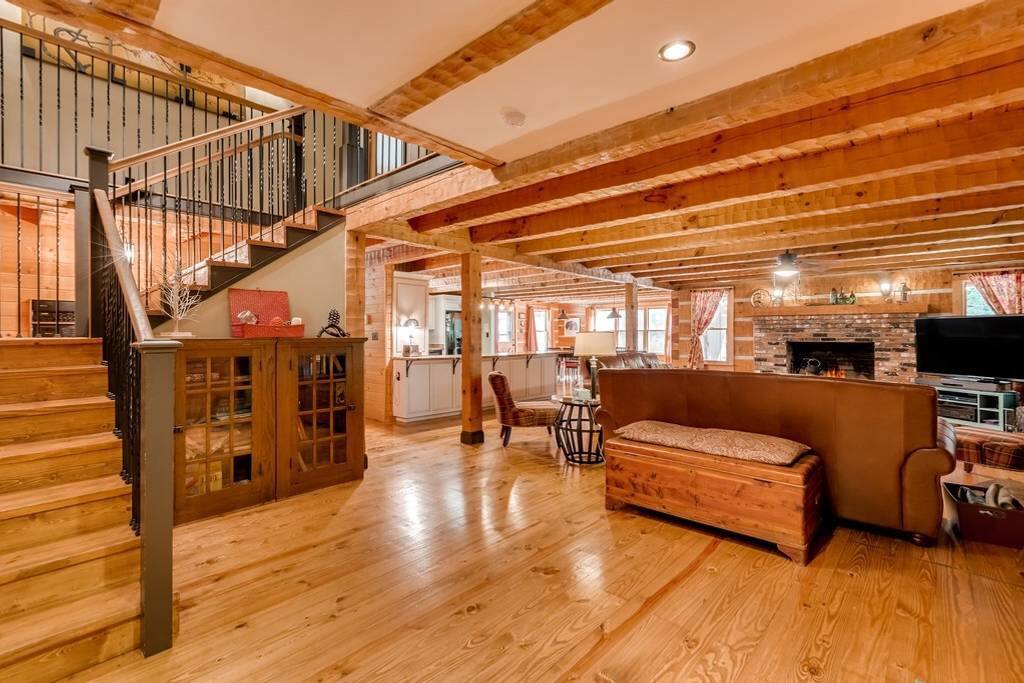 If you're wanting something a bit beyond the bustle, look no further than this magnificent cabin hidden away less than half an hour from Nashville.
The spacious, open plan kitchen, living & dining areas accommodates large groups making it the perfect Airbnb for those looking for a lively time in a chilled-out space.
The ample office, complete with bar, is great for those looking to graft on road. For those lucky enough to be simply enjoying the stay, check out the rocking chair porch with hot tub. $408 a night!
3. Explore Tennessee's Countryside from a Gorgeous Modern Barn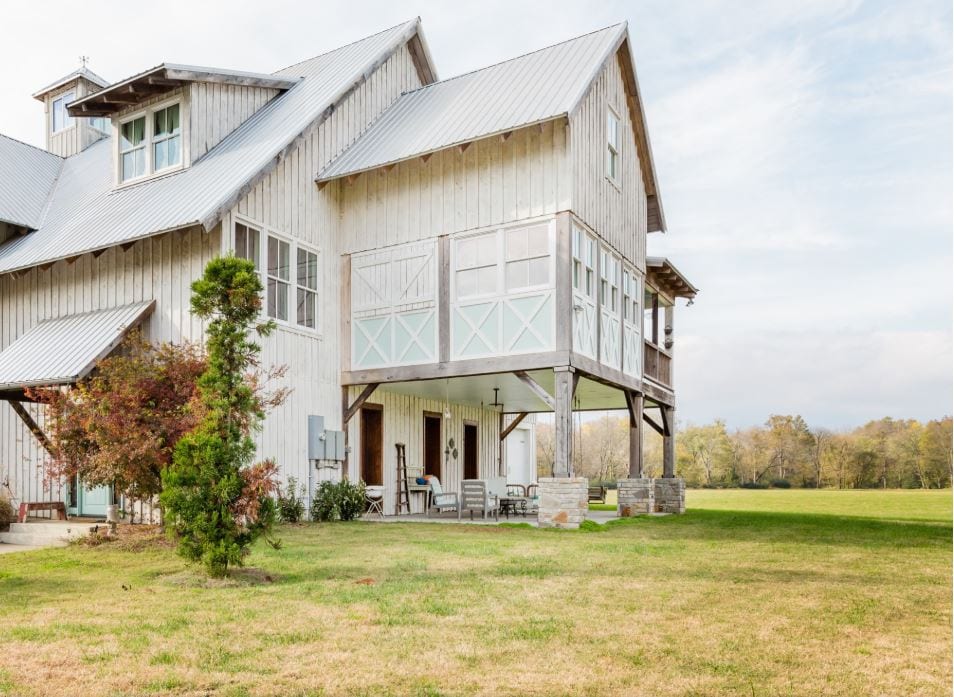 Converted from an Amish tobacco barn, this amazingly furnished Airbnb home features vaulted ceilings and snazzy antiques making it the perfect home away from home.
Visitors can chill out by the fireplace and basque in breathtaking countryside views from the terrace.
For the outdoorsy types, take a walk along the Harpeth River with eighty jawdropping acres of Tennesseean farmland all around.
For food, check out the local restaurants nearby or drive to the centre of Nashville which is only 15 miles. $307 per night.
2. Downtown Nashville with Incredible Rooftop Deck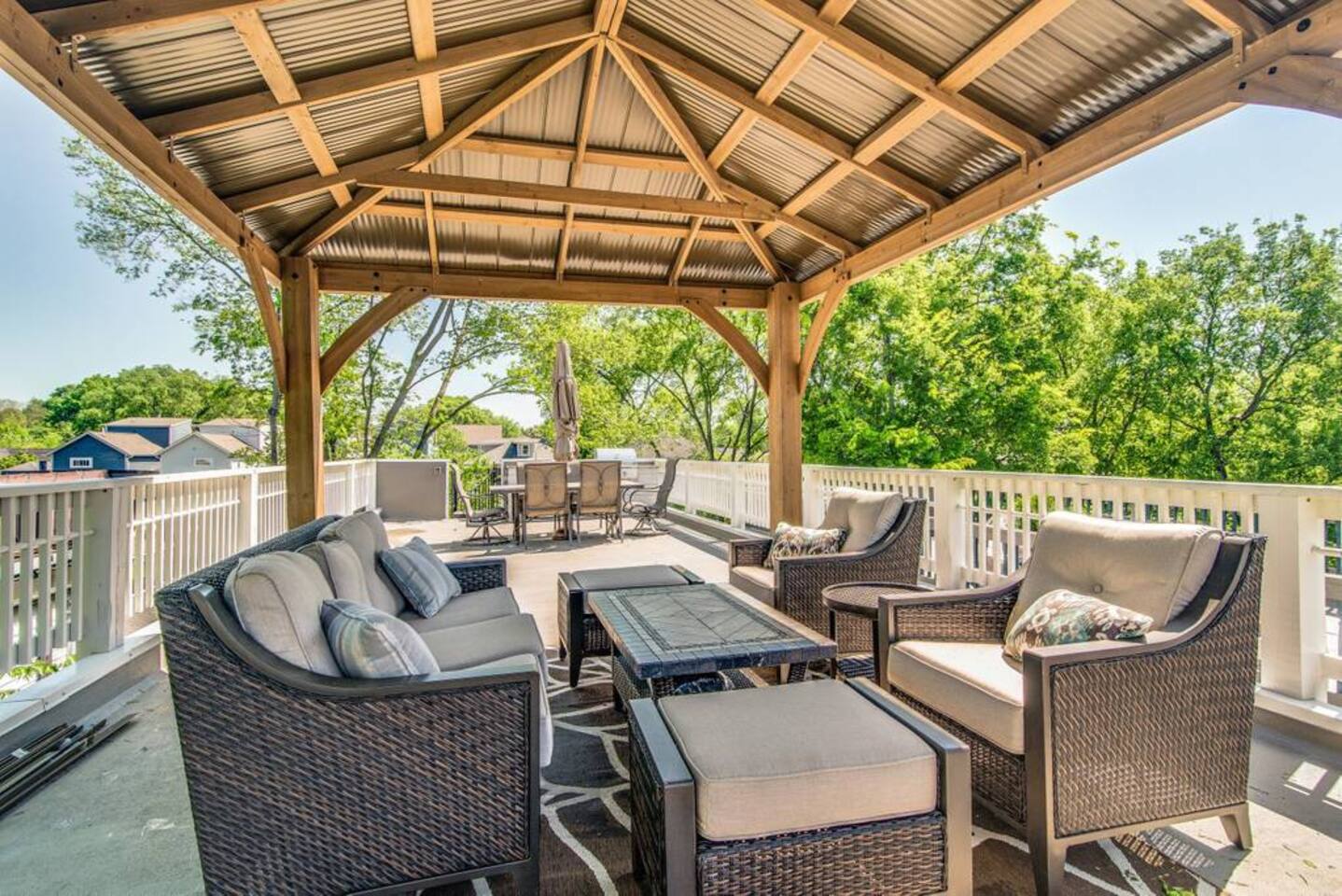 This great Nashville
Airbnb
is just 2 miles from 2nd Avenue and Broadway.
Tastefully decorated with a fully equipped kitchen with all the high end appliances you could wish for, if you're looking to whip up some good southern soul food you'll fare well here.
If you fancy eating out, there are always the new restaurants of Germantown just a mere walk away. This one's $379 a night.
1. Downtown 7000 sf Mansion 7 Min to Broadway!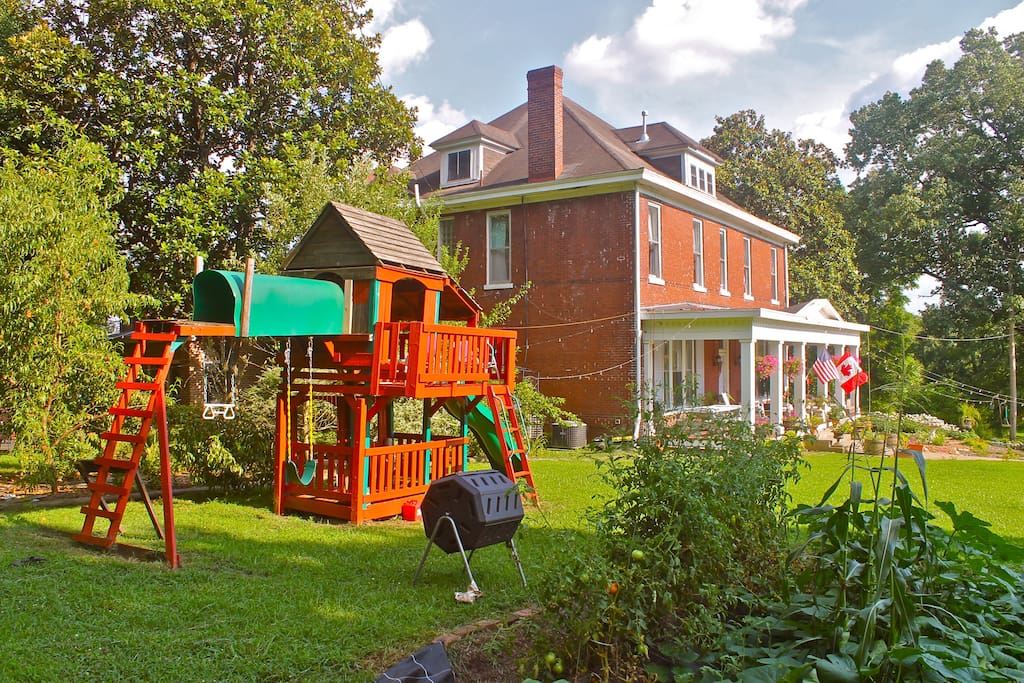 Just a few minutes to the sights and experiences of lower Broadway, indulge a bit of Nashville history at this great
Airbnb
.
It's one of the city's oldest Victorian mansions. The foundation of the staggering 7,000 square foot home predates the American Civil War.
Sitting on 4 acres of land, within the city limits, this property is $568 per night!